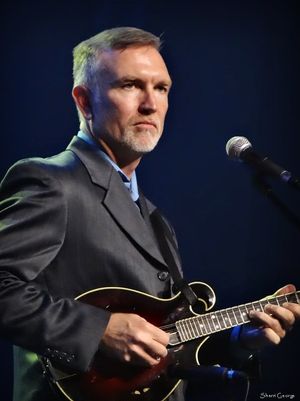 RED RIVER, NM (September 14, 2018) -- Shawn Lane will headline the 44th Annual Southwest Pickers Festival in the beautiful resort town of Red River, NM, on Friday-Sunday, September 14-16, 2018. 
Shawn will roll into Red River with his beautiful and talented family to perform three shows and host two workshops during this weekend's event at Brandenburg Park.  Gracie, Grayson, and Garrett Lane will join good friend and Dobro phenom Gaven Largent as Shawn Lane & Family headline their first major festival. 
The Lane's first official performance as a family was in 2017 as they co-headlined with Larry Sparks at the 21st Annual Stringbean Memorial Bluegrass Festival, honoring Grand Ole Opry star David 'Stringbean' Akemon.  The Lanes were blown away by cheers during their last set from an appreciative crowd calling them back for an encore. 
Shawn is best known as a 27-time IBMA Award winner and three-time Grammy nominee with Blue Highway.   He was honored as a 2015 IBMA Songwriter of the Year nominee, and appeared on CBS-TV with Dan Tyminski on The Late Show at New York's famed Ed Sullivan Theater in October 2017. 
Lane is currently coming off 7 weeks at # 1 on the Bluegrass Today Gospel Chart with his first single release, "I Met the Man."  The song is in the midst of 15 weeks in the Top 4 of the chart, and is the true story of his dad coming back after 17 days in a coma with a miraculous story to tell.  The song released on his CatTown Music label ahead of his forthcoming third solo album,  Shawn Lane: Family & Friends, which will shimmer with sparkling family harmony and appearances by good friends like GRAMMY-winning Barry Bales of Alison Krauss & Union Station. 
Shawn has quietly built a strong reputation as he has toured the world with the supergroup he co-founded, Blue Highway, and the legendary bands he began his career with in Ricky Skaggs & Kentucky Thunder and Doyle Lawson & Quicksilver. 
"Shawn Lane is unbelievable," said Bobby Starnes of Hat Creek Recording Company. "You think you know how good it's gonna be, and then he comes in and blows your mind."
"Shawn Lane is the epitome of a triple threat ~ one of the greatest singers, songwriters, and musicians to ever live," said Sierra Hull, GRAMMY nominee and IBMA Award Winner.  "I love his new song, 'I Met the Man,' and can't wait to hear the whole album! I'm such a fan!"
"Very few out there can compare with Shawn's powerful yet tender voice, especially coupled with his own compelling lyrics," wrote Judy Adams in a recent Facebook post celebrating Shawn's powerful song about his dad.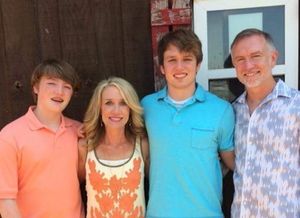 "Shawn is an incredible talent, and his multi-instrumental and songwriting talents have served him well over the years as a co-founder of Blue Highway," said Tony Mora, President of the Southwest Traditional & Bluegrass Music Association.    "We're excited to have Shawn bring his band to New Mexico for the first time, and we know it won't be the last!  Number one for seven weeks on the Bluegrass Today Gospel Chart with his latest original, 'I Met the Man,'  Shawn Lane is a powerhouse at the top of his game."
Shawn Lane & Family will perform three shows and host two workshops in mandolin and harmony this weekend in Red River, with their schedule at Southwest Pickers Festival shown below: 
Friday, September 14 
4:00 pm ~ Workshop ~ Harmony Singing @ Community House 
Saturday, September 15   
11:00 am ~ Set @ Brandenburg Park 
2:00 pm ~ Workshop ~ Mandolin @ Community House 
8:00 pm ~ Set @ Brandenburg Park 
Sunday, September 16 
10:00 am ~ Gospel Set @ Brandenburg Park
Tickets and information on Southwest Pickers Festival may be found at www.SouthwestPickers-Festival.org. 
Shawn will also go back to his beloved Virginia roots for a special Christmas show as part of the VHCC Arts Array Concert Series at Sinking Springs Presbyterian Church at 136 East Main Street in Abingdon on Sunday, December 9, at 3:00 pm.  Tickets will be $10 at the door on the day of event. 
For more information on Shawn Lane, please go to www.ShawnLaneMusic.com. 
###
Press Release courtesy:  Sherri George