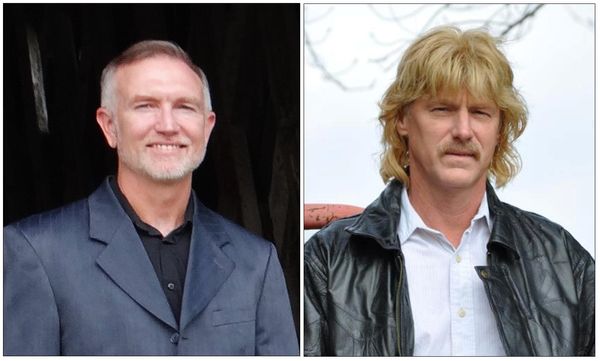 BRISTOL, VA (February 15, 2019) -- Shawn Lane has turned heads and garnered cheers since last Summer with a single relaying the true story and miracle of his dad coming back from 17 days in a coma with a supernatural story to tell.  The song driven by Lane's songwriting and vocals has been a force on the Bluegrass Today Gospel Chart.
The powerful "I Met the Man" exploded into the Top 10 only two weeks after its release on May 15, topped the chart at #1 by June 15, and shined brightly in the #1 spot for 7 weeks.  On a chart known for its continual updated rotation of songs, the staying power of the truth-driven song to hold strong for 28 weeks in the Top 10 has been almost miraculous. 
The song dropped ahead of Lane's third solo album scheduled to release in 2019 called Shawn Lane: Family & Friends.   Vocalists and instrumentalists will range from his gifted sons Grayson and Garrett, to Grammy-winning AKUS bass player and long-time friend Barry Bales, to Shawn's beautiful wife Gracie whose angelic vocals and Facebook video posts opened doors to unexpected skyrocketing exposure via social media for the Lane family. 
In the midst of producing his Family & Friends album, Lane is about to drop another dynamic project with a fellow respected musician, the former J.D. Crowe lead vocalist and guitarist, and current Flashback band member Richard Bennett.
Richard is a respected guitarist, vocalist, and songwriter who began his musical journey at the young age of seven. By age 15, the East Tennessee native was touring with former Flatt & Scruggs fiddle player Benny Sims.  Gigs at Dollywood followed, with his big break coming in the 1990's as he joined the legendary J.D. Crowe & The New South.  Bennett appeared on Crowe's 1995 Grammy nominated album, "Flashback," and went on to tour with greats like Bobby Osbourne and Mike Auldridge.  Richard also released several solo and trio albums on Lonesome Day and Pinecastle Records.  His projects have garnered radio airplay across the musical genres of Bluegrass, Folk and Americana. 
Lane is a three-time Grammy nominee and 28-time IBMA Award winner with Blue Highway.   Heralded as a vocalist and instrumentalist, Lane is explosive on fiddle, mandolin, and guitar.  Shawn is also a respected songwriter, and was nominated as 2015 IBMA Songwriter of the Year, penning such iconic songs as The Game, Sycamore Hollow, and Tears Fell on Missouri.  Lane played in the bands of both Ricky Skaggs & Kentucky Thunder and Doyle Lawson & Quicksilver prior to becoming a founding member of Blue Highway in 1994. 
The duo of Shawn Lane & Richard Bennett will debut this Sunday, February 17, at the Boston Bluegrass Union's heralded Joe Val Festival at the Sheraton Framingham on the outskirts of Boston.  The duo will grace the festival's Main Stage on Sunday morning at 10:00 AM. 
The duo will also release an EP album in early 2019 on Bonfire Records called "Land and Harbor." 
Shawn and Richard have been co-writing together for a couple of years. A few unique songs seemed to have a natural duo feel, so the two decided to spread their musical wings with a duo project showcasing their songwriting, instrumentals, and vocal chops.  The gifted musicians will both play guitar on the five-song EP, with Gaven Largent of Dailey & Vincent  adding his dynamic touch on Dobro, and Lane adding a soulful fiddle to one track. 
Their sound has a slightly more folk and jam feel than the music Shawn and Richard release with their respective primary bands.  Richard currently helps drive the traditional yet fresh sound of the J.D. Crowe & the New South reunion band, Flashback, while Shawn shines in the legendary multi-award winning supergroup he co-founded, Blue Highway. 
"Shady Grove" will be the first single dropping this Spring from the duo's new EP.  Friends and fans can watch for the single's debut on radio, with the song and duo's Live performance debut this Sunday at Joe Val in Framingham, MA. 
"We're really excited to just go out and have fun with this," said Shawn Lane. 
"Always love appearing at Joe Val, and we're really looking forward to this Sunday's duo debut show," said Richard Bennett. 
For more info on Richard Bennett, please go to  www.FBBand.com/member-bios 
For more info on Shawn Lane, please go to www.ShawnLaneMusic.com and www.BlueHighwayBand.com. 
For more info on the 2019 Joe Val Festival, please go to www.BBU.org/events/joe-val-festival/ 
###
Press Release courtesy of Sherri George